Dynamically Adjustable Timelines
Dynamically adjust your default timeline to show different date ranges.
Anywhere from 1 day to multiple years
No need to go to settings to adjust the timeline view
Different users can see different timelines
Adjusts the scale automatically to change the level of details and labels.

for example 1-5 days might show a tick mark on every hour while, 5+ days, just shows tick marks on the day.

This is in addition to new static timelines for 1 day, 1 week, 1 month and 1 year.
In soSIMPLE Calendar file, choose timeline range from the drop-down menu.
In your own integrated file, add "timeline=1d" or "timeline=3m" to the url.
This joins a growing list of dynamically adjustable settings, including "hide weekends" and "hide navigation calendars."
Tons of new views
In all, we've added 14 new views, nearly TRIPLING the number of ways to look at your events.
The adjustable timeline is just the star of a long list of new views available. For every time range, we now have a static view of every type.
See a map view of your events for single day, or click a button to see the map view for the month.
Start on a grid view of the entire year of events, and drill down all the way to a single day.
Timeline views added: Day, Week, Month, Year, and Adjustable
Grid views added: Day, Week, Month, Year and all future events
Map views added: Day, Week, Month, and Year
Quick Menu Navigation
Add as many views as you want, to all of your calendars, all at the same time.
Now that we've added all these new views, we didn't want you to have to decide between them. In fact, they were designed to work together.
The menu navigation feature adds menus below the traditional buttons to jump to other views. You choose whether to add a view as a single button or part of a menu.
For example, underneath the single-day "Day" view, you can jump to a single-day Resource view, a single-day Timeline, or a single-day Map view.
We've also added similar "Week," "Month," and "Year" menus.
Or group your views by view type, using the new "Map", "Timeline," "Grid" and "Resource" menus.
Live Update
Always be up to date.
We've gone to great lengths to make sure that this calendar serves all your calendar needs – from FileMaker Pro to FileMaker Go, from smartphone to web. And to iCal.
Over the last five years we've continued to add more features, and expand capabilities. In 2015 alone, we've had one major upgrade and two significant smaller releases.
And we plan to continue expanding it.
Now with Live Update, you can get calendar updates from our servers right from within the app. With a single click. So you can have the most recent software without downloads or file imports.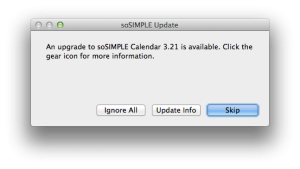 .. and so many more tweaks and features
See our change log for more details.
Download the latest version now.